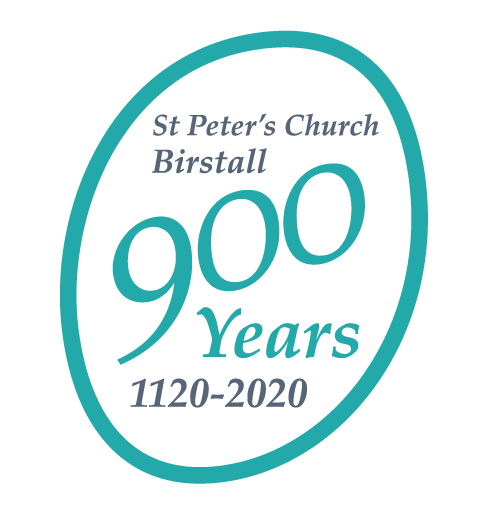 The year 2020 marked the 900th anniversary of the first stone church being built on the site in Birstall – although Christianity had existed from before this time on the same spot (see our History section for more details).
We celebrated this important milestone with a year of events and special acts, including:
During the autumn of 2019 we planted 900 bulbs in the church grounds due to flower in the spring of 2020
We challenged the congregation to carry out 900 acts of kindness ('pay it forward') during the twelve months of the celebrations
We hoped to give out 900 invitations during the year – although due to the coronavirus pandemic many of our events were sadly cancelled.
To put this 900 year timespan into perspective, we've put together a timeline of local and world events that the church here in Birstall has been witness to – you may be amazed!
900 year timeline
1120

First stone church built, dedicated to St Peter and St Paul

1168

School of Oxford founded

(Age of church: 48)

1199

Richard the Lionheart dies

(Age of church: 79)

Rector: Dolfin (1199 – 1216)

1200

Stone church extended

(Age of church: 80)

1215

Magna Carta signed

(Age of church: 95)

Rector: Ralph (1218 – 1219)
Rector: Henry of Horbury (?) (1220 – 1228)
Rector: Richard (1228 – 1268)

1260

Chartres cathedral consecrated

(Age of church: 140)

Rector: Thomas de Bolean (1268 – 1279)
Rector: Thomas de Dalton (1279 – 1287)
Vicar: Ralph de Liversegg (1280 – 1309)
Rector: William de Pickering (1289 – 1309)

1301

Nostell Priory appointed Rectors of the Parish

(Age of church: 181)

Vicar: Richard de Hilegh (1309 – 1341)

1314

Battle of Bannockburn

(Age of church: 194)

Vicar: Henry de Rillington (1341 – 1349)

1347

Black Death strikes Europe

(Age of church: 227)

Vicar: John de Rillington (1349 – 1369)
Vicar: Robert Davy (1368 – 1394)

1382

John Wycliffe, pre-Reformation religious reformer, and his followers finish translating the Latin Bible into English

(Age of church: 262)

1390

Church rebuild finished

(Age of church: 270)

Vicar: Richard de Liversegg (1394 – 1430)
Vicar: Thomas Gudeale (1430 – 1460)

1431

Joan of Arc executed

(Age of church: 311)

1455

Wars of the Roses began

(Age of church: 335)

1455

Johann Gutenberg completes the first printed Bible

(Age of church: 335)

Vicar: Richard Messing (1460 – 1462)
Vicar: John Grene (1462 – 1464)
Vicar: John Southwell (1464 – 1465)
Vicar: John Kent (1465 – 1499)

1490

Church rebuilt, dedicated to just St Peter

(Age of church: 370)

1492

Christopher Columbus sails to America

(Age of church: 372)

Vicar: Hugh Anne (1499 – 1508)

1498

Da Vinci paints The Last Supper

(Age of church: 378)

1500

Third tier of tower added with four bells

(Age of church: 380)

Vicar: John Hawkesworth (1508 – 1516)
Vicar: Richard (Ralph) Holand (1516 – 1520)

1517

Martin Luther writes Theses

(Age of church: 397)

Vicar: Christopher Wilson (1520 – 1532)
Vicar: Geoffrey Downes (1532 – 1535)

1534

Church in England becomes independent of Rome

(Age of church: 414)

Vicar: Arthur Cole (1535 – 1537)
Vicar: Richard Dene (1537 – 1538)
Vicar: William Ermysted (1538 – 1557)

1539

Every church in England to have a bible in the English language

(Age of church: 419)

1556

Church school founded by William Ermystede

(Age of church: 436)

Vicar: William Taylier (1557 – 1564)

1558

Parish registers begin

(Age of church: 438)

Vicar: Nicholas Wilson (1564 – 1585)

1582

Pope Gregory XIII implements the Gregorian calendar

(Age of church: 462)

Vicar: Robert Dickson (1587 – 1614)

1605

Gunpowder plot

(Age of church: 485)

Vicar: Richard Marsh (1614 – 1649)

1642

Civil War begins (ends in 1651)

(Age of church: 522)

During the Commonwealth Period, 1649-1660, there were three ministers known as "intruding":
Joseph Bodin (1649 – 1651)
Robert Constantine (1651 – 1654)
James Rigby (1655 – 1660)
Then Richard Marsh returned as Vicar until 1662
Vicar: William Broadhead (1662 – 1675)

1662

Book of Common Prayer published – still the official prayer book of the Church of England

(Age of church: 542)

1666

Great Fire of London

(Age of church: 546)

Vicar: Joseph Ashburne (1675 – 1680)
Vicar: Joshua Oldroyd (1680 – 1681)
Vicar: Thomas Hepworth (1681 – 1701)
Vicar: Luke Coates (1701 – 1717)

1707

United Kingdom of Great Britain formed — England, Wales, and Scotland joined by parliamentary Act of Union

(Age of church: 587)

Vicar: Thomas Coleby (1718 – 1768)

1761

A cutting from the Glastonbury Thorn planted in the churchyard (still alive)

(Age of church: 641)

1764

Clock installed on the church tower

(Age of church: 644)

Vicar: John Marsden (1768 – 1774)
Vicar: Henry Walkins (1774 – 1800)

1781

John Wesley preached in the church

(Age of church: 661)

1789

French revolution

(Age of church: 669)

Vicar: William Margetson Heald (1801 – 1836)

1805

Battle of Trafalgar

(Age of church: 685)

1833

Slavery abolished in the British Empire

(Age of church: 713)

Vicar: William Margetson Heald Jnr (1836 – 1875)

1848

Charlotte Bronte writes Shelley (Birstall Church appears as 'Briarfields')

(Age of church: 728)

1865

Dilapidated church razed leaving Norman tower

(Age of church: 745)

1870

Present church built and consecrated by Bishop of Ripon

(Age of church: 750)

Vicar: John Kemp (1875 – 1895)

1879

Electric light invented

(Age of church: 759)

1890

Eiffel Tower erected in Paris

(Age of church: 770)

1893

New clock installed by Potts and Son of Leeds

(Age of church: 773)

Vicar: William Romaine Hervey (1895 – 1909)

1901

Frampton mural added over the main arch

(Age of church: 781)

1901

Queen Victoria dies

(Age of church: 781)

1903

Wright brothers take to the skies

(Age of church: 783)

Vicar: Henry Cowper Cradock (1909 – 1915)

1910

Rood screen added to separate quire from nave

(Age of church: 790)

1914

First World War starts

(Age of church: 794)

Vicar: Henry Tavener Robinson (1915 – 1949)

1918

First World War ends

(Age of church: 799)

1919

Eight bells recast and rehung in memory of Lieutenant Edward Brook Longbottom

(Age of church: 799)

1939

Second World War starts

(Age of church: 819)

1945

Second World War ends

(Age of church: 825)

Vicar: Frederick George de Jonquil Patterson (1949 – 1959)

1952

Elizabeth becomes queen

(Age of church: 832)

Vicar: Rudolph A Maddocks (1959 – 1970)

1969

First moon landing

(Age of church: 849)

Vicar: Lawrence Dalton (1971 – 1979)

1976

Concorde's first commercial supersonic flight

(Age of church: 856)

1978

Wrought iron porch gates installed after significant vandalism

(Age of church: 858)

Vicar: David Cook (1980 – 1983)
Vicar: Kenneth John Davies (1983 – 1991)

1989

Berlin Wall torn down

(Age of church: 869)

1989

Installation of Dais and Nave Altar

(Age of church: 869)

Vicar: Richard Morton Weller (1991 – 1996)

1991

World Wide Web launched

(Age of church: 871)

Vicar: Paul Jeremy Knight (1997 – 2020)

1997

Rear of the church partitioned to create a kitchen and fellowship area

(Age of church: 877)

2001

9/11 attack on New York and the Pentagon

(Age of church: 881)

2016

Internationally televised vigil held on day of the murder of Jo Cox MP

(Age of church: 896)

2020

900 year anniversary of the first stone church